Wednesday, August 9, 2006 (read 1701 times)
Is the Alhambra one of the New 7 Wonders?
by Erin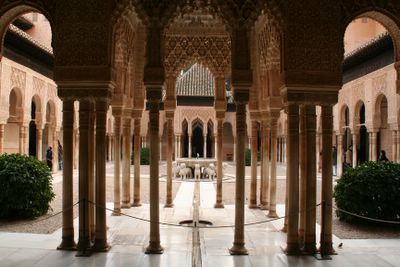 Have you seen Granada's stunning Alhambra?
In person? In a book or film about Spain?
Well, the Alhambra is a finalist in a new campaign to choose the New Seven Wonders of The World, and you can help make sure Granada's treasure makes the list.
I remember my first visit to the Alhambra. I'd managed to book a hotel just across from the entrance gate and spent the night looking out at the looming silhouette of the Alhambra just outside my window, an eerie, evocative sight. I finished my tour next morning, took my place at the end of a long line of tourists, and claimed a ticket for a second visit the next day.
I must not be the only person to have reacted so dramatically to the Alhambra. Voters in the New 7 Wonders Foundation contest to name the new 7 Wonders of the World have made the Alhambra one of 21 finalists for the final list of 7. South American sites have made the list as well, including Maccu Picchu, the statues on Easter Island and the Mayan city of Chichen Itza in Mexico.
At the New 7 Wonders site, you can read about each of the 21 candidates and vote online. The site includes a gallery where you can upload your own photos of the Alhambra, or Maccu Picchu, or any of the 21 candidates.
You have time, if you'd like to experience the Alhambra in person before voting. According to the site, as I type this, you have 332 days and 12 hours left to vote. Winners will be announced on July 7, 2007 in a live worldwide telecast.
And in this article, El Mundo says that 2 internet stations have been set up inside the Alhambra, so you can vote during your visit.
---
Keywords: travel,spain,mexico,granada,culture