Friday, April 9, 2010 (read 1036 times)
Here's a Quick Way to Get a Tan
by Stephen Maher
Invest sometime in learning Spanish where the rain in Spain is mainly - nowhere to be found. According to WikiAnswers, on average Madrid has 349 sunny days a year!
In Salamanca, for example, the Plaza Mayor has sprung to life with students and tourists taking advantage of the open patio to enjoy some tapas and soak up the free rays.
Considering don Quijote Language Schools have locations and partner schools in Barcelona, Granada, Salamanca, Tenerife, Valencia, Seville, Marbella, Alicante, Málaga,Cádiz, and Pamplona, and Madrid you'll just have to spend those other 16 days studying indoors.
The chairs are out and waiting…come join us and learn Spanish in Spain this Summer!
Cheers!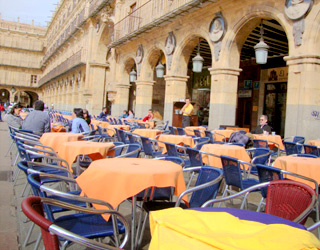 ---
Keywords: summer abroad,study spanish,spain,holiday,don quijote,courses,abroad