Monday, October 31, 2005 (read 865 times)
Studying Spanish in Madrid (James Wong, Ireland)
by Mirjam
Over the past two weeks I have enjoyed my stay in Madrid very much. I've found the whole athmosphere in don Quijote to be quite refreshing with a lovely mixture of people and cultures.
For me coming to Madrid to study in this language school is one of the best things I've done in my life and to have made many friends out of this experience is an extra bonus.
The teachers have been exceptional at don Quijote. They have worked so hard for all of us and were always near at hand whenever help was needed. I'd like to take this opportunity to thank my teachers Veronica, Natalia, Manuel and Ana for all their help, patience and understanding. I'm sure they needed the patience of saints sometimes with me.
Muchas gracias to my homestay family, Carmen, Miguel, Saúl and Adrian for making me feel part of their home and a huge thanks to all at don Quijote.
I would recommend anyone from wherever they may be to come to Madrid and study Spanish with the wild and the wacky Veronica and Natalia. The more chilled out Ana and Manuel. Just come, enjoy, enjoy, enjoy and see for yourself.
Muchos besos, James Wong (Ireland)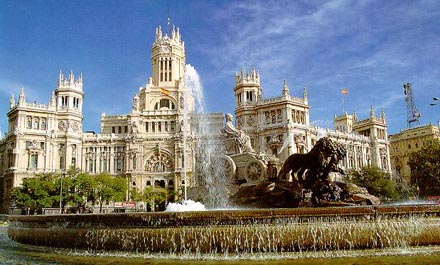 La Cibeles fountain in Madrid
---
Keywords: teachers,madrid,class