Friday, October 13, 2006 (read 1155 times)
Meet our Teachers: From Barcelona, Héctor of don Quijote's Business Spanish courses
by Erin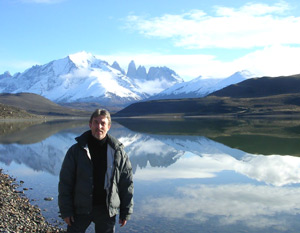 This week, we meet Héctor Muñoz Anaya, who created and teaches don Quijote's Business Spanish courses in Barcelona.
Héctor, shown on the left on a trip to Patagonia, has an unconventional but very wise book recommendation for you: the local "Guia de Ocio". No you're right; it's not a book, but a guide to What's Happening: bars, live music, events and nightlife. "Get out and live the language" is Héctor's wise advice.
If you are interested in Business Spanish or finding work in Barcelona, I recommend a visit to Héctor's website: Spanish for Business.
From Barcelona: Héctor Muñoz Anaya
How long have you been teaching Spanish, Héctor?
I've spent more that 20 years working as a Spanish teacher, specialised in the area of Business Spanish.
What do you like most about your profession?
I like the cultural diversity of my work groups and the practical applications of our programme.
What do you do when you aren't working?
I do mountaineering and climbing on weekends. Also mountain biking. Plus I go to the gym every day.
Have you studied a foreign language? Which? Did you find it difficult?
I've studied English and Portuguese. They don't seem particularly difficult to me but yeh, we always fall short…
What makes Barcelona the ideal place to study Spanish, particularly Business Spanish?
In Barcelona's case and particularly with respect to our Business Spanish courses, I believe that this city is a meeting point in the business world, that it is a good place to live, and a good place to look for a job that allows you to live here, without living under a bridge …
Do you have a key piece of advice for people who want to learn Spanish?I would say that the process of learning a language reaches the height of its efficiency when we find ourselves immersed in the appropriate environment. You have to live a language in all of its contexts: friends, parties, a Spanish girlfriend or boyfriend, a job search, going out at night and on weekends, building relationships with native speakers…
Will you tell us your favourite teacher's anecdote?
I remember one time, when the business courses were 3 months long, I organised a paella in the pueblo where I was living. I prepared a paella in an outdoor cervecería (casual restaurant/bar) for more than 18 students. The students drank too much and a few wound up pretty drunk. It just so happened that the final exam for the course was that same afternoon. I still remember the exam responses " extraordinary! But of course! They had consumed so much coffee to stay away through the exam! It was very amusing.
What book would you recommend to Spanish students (at the intermediate level, for example) who want to read their first novel (or first book) in Spanish?
I recommend the "Guía del Ocio"! It's not a book but a guide for going out (bars, concerts, theatre, restaurants " a What's Happening guide). That's the best tool for improving your knowledge of a language in all its varied points of view. You have to go out and live life! The students will have time to read novels and essays, etc. when they are more familiar with the language.
The next Intensive Business course in Barcelona starts soon! The course is also offered in Madrid, Salamanca and Guanajuato (Mexico).
---
Keywords: work,teachers,spanish,spain,schools,jobs,courses,business,barcelona