Thursday, November 9, 2006 (read 790 times)
Speaking of Don Quijote...
by Erin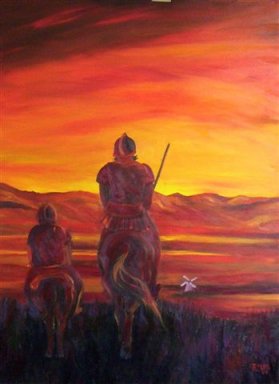 Have you ever explored the don Quijote virtual museum?
Added to the don Quijote website in honor of the 400th anniversary of the publication of Cervantes' novel in 2005, the museum receives and posts art, news, etc. from all over the world, all of it inspired by Don Quijote.
The site offers a virtual stroll through galleries dedicated to paintings, sculpture, gastronomy, statues and editions of the book while you read news about Don Quijote and look up both businesses and places named for el ingenioso hidalgo.
There's Quijote quiz, as well, just to see how up-to-speed you really are on all things Quijote, Panza and Cervantes.
I thought it was worth offering up here, since you all seem to be way ahead of me on finishing the entire book in Spanish!
Ruth Haggerty of Málaga painted the work, Quijote and Sancho, that accompanies this post. When she graciously shared the painting with the museum in April, Ruth was working on 2 additional Quijote paintings. For more information about her work, visit her painting in the museum.
---
Keywords: culture,books