Friday, October 26, 2007 (read 1676 times)
Mexico's dia de los muertos
by Celine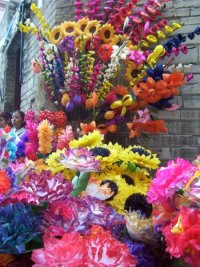 El día de los muertos ("the day of the dead") is celebrated on November 1st, throughout Mexico with variations seen in other Latin American countries and other parts of the world. It is a joyous holiday commemorating the lives of those who have passed away in a three-day celebration who are believed to return to their homes on the eve of October 31st, Halloween. According to lore, the spirits of the departed visit the Earth once a year on this day.
El día de los muertos is a family holiday and members usually gather at the cemetery for grave site reunions and picnics to toast the departed and have a big meal in their honour. They also make and decorate altars for their loved ones . They place photos, marigolds, remembrances and special food all around these altars, which are filled with offerings for the deceased. Candles are lit and ancient incense is burned. Usually, at 6:00 pm, bells begin to ring with 30 second intervals summoning the dead.
Around the beginning of October, stores fill up with flowers and other decorations as well as yummy 'día de los muertos' treats. Some of these specialties include sweet, egg-rich bread shaped into skulls, or smaller sugar skulls for children.
Though death may be considered morbid from the perspective of some other cultures, the belief is that death is not the end, but rather the beginning of a new stage in life. Celebrants typically approach it joyfully with emphasis on celebrating and honouring the lives of the deceased, and celebrating the continuation of life.
---
Keywords: spanish latin culture,spanish,puerto vallarta,oaxaca,latin america,celebration,annual,culture,fiesta,guanajuato