Thursday, March 8, 2007 (read 1391 times)
Father's Day is here so don't forget to wish your dad a "¡Feliz Día del Padre!"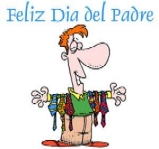 Father's Day is celebrated with lot of enthusiasm in countries around the world. Though the date and manner of celebrations differ in several countries what remains the same is the spirit of the family celebration. Everywhere people take this opportunity to express appreciating for their dad and to tell him how much he is loved.
In Spain, Fathers Day 'El día del padre' is celebrated on St. Joseph's Day (March 19) to honor St. Joseph, the patron saint of carpenters, who showed a very good example of paternity. Until very recently, Father's Day was a non-working holiday. This festival is considered to be extremely important in Spain as it helps acknowledge the contribution of fathers to individual families and to societies as large. Usually the whole family gets together for a big feast and to give small gifts to their father figure. In some parts of Spain it is celebrated as Las Fallas.
We must all take this opportunity to express our gratitude for fathers. The best way to do so is to do small things that daddy appreciates and by saying "Te quiero, papá " with a small present we know dad will like.
---
Keywords: día,padre