Tuesday, April 24, 2007 (read 729 times)
Poll Results: What's Spain's best gastronomic gift to world cuisine?
by Erin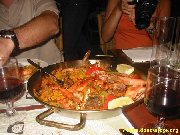 We're paella lovers, as it turns out.
I can't say that I voted with the majority this time around. It's not that I don't love a good paella. It's just that I can't for the life of me remember when I last ate one. Now a perfect, golden tortilla de patatas….that I cannot go a month without. Pair it with a cup of gazpacho, and I'll sign anywhere, that I am never leaving Spain.
62 of us responded to the poll:
Spain's Gastronomic Gift
Which of the following is Spain's most important (or tastiest) contribution to world cuisine?
| | | |
| --- | --- | --- |
| Tortilla de patatas | | 9 (14%) |
| Paella Valenciana | | 23 (37%) |
| Jamon Iberico | | 8 (12%) |
| Spanish wines | | 8 (12%) |
| Gazpacho, the perfect summer food | | 4 (6%) |
| Never mind which is most important, just pass the manchego, will you? | | 10 (16%) |
| The nouveau cuisine of star Spanish chefs like Ferran Adriá | | 0 (0%) |
Total votes: 62
---
Keywords: spanish,spain