Tuesday, May 22, 2007 (read 914 times)
Volunteer programs in Latin America
by Paqui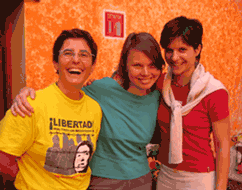 Last week we had Pedro, the director of our Spanish school in Guanajuato, visiting us here in Salamanca. He told us about don Quijote's beautiful school in Mexico, about the students (here is a picture), and about the volunteer programs.
If you want to learn or improve Spanish adding a special something to your Spanish course, try our volunteer programs in México.
don Quijote offers you a four week Spanish course followed by a four week volunteer experience in various social institutions. A chance to work with people less fortunate and make a difference in their lives. While helping those in need you will be able to improve your Spanish and enjoy the beautiful Mexican city of Guanajuato.
Volunteer programs are also available in Ecuador, Bolivia, Costa Rica, Peru and Guatemala.
---
Keywords: mexico,courses,abroad