Thursday, August 16, 2007 (read 1015 times)
Special Offer Extended: free hotel vouchers while they last! Learn Spanish and explore Spain!
by Erin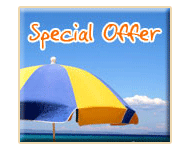 Hundreds of our students have received free hotel vouchers to explore Spain.
You can still get free nights in selected hotels when you book your Spanish course at don Quijote, but act quickly!
While supplies last - and you remember to mention this offer when you book your course- you'll receive, along with the rewarding experience of studying Spanish with the leading school in Spain, a hotel voucher for a stay of up to 3 nights in one of hundreds of selected hotels in Spain, Portugal and Andorra.
Who says language study shouldn't include travel in the language you're learning? The vouchers are valid for one year, so you can travel before, during or after your course - or come back to give your Spanish a little outing in Spain later in the year.
NOTE: This offer ends on September 1, 2007. Check out the rest of our Special offers!
---
Keywords: travel,spanish,spain,schools,offers,don quijote,courses