Tuesday, September 25, 2007 (read 730 times)
Study Spanish in Mexico for less!
by Celine
Learn Spanish in Mexico and SAVE!!
Come and study Spanish in any of our Mexican partner schools in Playa del Carmen, Puerto Vallarta or Oaxaca and get a 10% discount on your course and enrollment fee.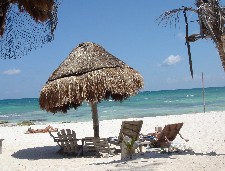 Escape the stress of school or work and enjoy a relaxing vacation in the sand and sun while perfecting your Spanish. Mexico is the perfect blend of rich culture, tropical waters, mountains and amazing architecture; it's a place to learn, to relax, to have fun and to take in the natural wonders. Sign up now and receive your special discount today
This offer ends on October 31, 2007 so act now!
Conditions:
- Offer can't be combined with other offers
- Offer available upon request and subject to availability.
---
Keywords: study spanish,mexico,less