Tuesday, June 10, 2008 (read 2310 times)
Carnival in Santiago de Cuba
by Stacey
The carnival of Santiago de Cuba will be from July 21-27, and we hope you don't miss out on learning Spanish in such a vivacious country while experiencing what is considered to be one of the biggest festivities celebrated in Cuba every year.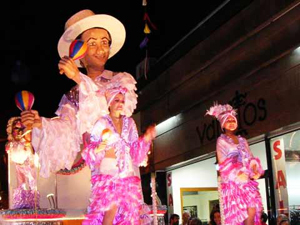 Cubans anxiously await this week-long celebration year after year. To them, it means the time to go all out and celebrate a year of long, arduous work has finally arrived. It is also a commemoration of Santiago " the patron saint of the city- and the day the Cuban revolution took place in July of 1955. The entire city turns into a carnival, and no matter where you go, you will find that cheerfulness is the key state-of-mind found among the people during this time.
Prior to the carnival, the locals work hard to prepare. They make sure the colors are perfect, the music is well rehearsed, and that there's plenty of delicious food to be served such as roasted pork, congrí rice and of course, rum. You can appreciate their efforts, seen in the streets that are beautifully decorated, the colorful costumes for the various parades, and the live band processions with dancers that show off the long practices and choreographic efforts put into each of the arrangements.
Orchestras head to Santiago for this grand event. The most characteristic feature of this carnival is the conga. The drum rythms seems to draw people, locals and foreigners, into a conga line to dance the night away. As the carnival goes on, your worries and pains fade away. It's inevitable. The congas, the strolls and the food kiosks will leave you thinking of nothing else but in having a good time. People gather in the streets partying all night long, passing the time until the exciting annual live performance of a short skit 'Cuartel Moncada' that is based on a historical event.
Discover what famous Cuban salsa singer Celia Cruz meant in her song 'La Vida es un Carnaval' when you study with don Quijote school in Santiago de Cuba.
And in case you didn't know, while the partying in Santiago de Cuba is in full swing, the city of Havana almost 620 miles away will also be enjoying its own party of a lifetime. don Quijote in Havana awaits you there as well!
---
Keywords: santiago de cuba,cuba,carnaval,havana,carnival,verano,travel,summer,study,spanish,learn