Monday, July 21, 2008 (read 1140 times)
Felipe's story: 8 weeks of learning Spanish
by Stacey
Twenty-three year old Felipe Petri of Rio de Janeiro (Brazil), studied for 8 weeks in don Quijote Madrid. This is his story...

I had two friends that went to don Quijote for a short term period. She studied in Madrid and Barcelona, he studied in Barcelona. Both really enjoyed the experience and recommended the school to me.
The school is really a Babel tower. There were people from Latin America, Europe, Asia, and North America all in my own class. The teachers are mostly young and fun. That really helped relate to the new culture we were facing since they were speaking Spanish but spoke "our language".
Spanish people are great to interact with! For Latin standards, maybe a little distant at first but that's a very shallow first impression. I still have contact with all the friends I made in don Quijote. I visited Madrid again after I left the school and was able to organize a little gathering between those that were still in Spain and others that came back just for the sake of getting back together again!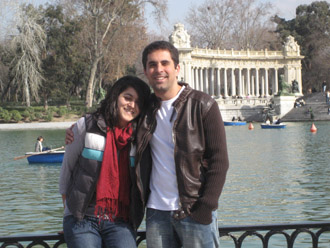 There's nothing compared to spending time in a country where the language spoken is the one you're trying to learn. It's the fastest and most accurate way of learning. It is really culturally fulfilling and an amazing experience to just experience the differences between the regions of such a vast country that Spain is. I visited Barcelona and Santiago de Compostela and loved them both. I still want to go back and get to know the rest of Spain.
I stayed at a friend's house, so I do not know what the school's accommodations are like. But the school offers good service and I'd recommend it. I had a great time and learned a lot even though we partied a whole bunch!!! Hehehehe
I want a brochure to come back… please let's rush it!
Study Spanish abroad with don Quijote!
---
Keywords: testimony,study spanish,study,study abroad,spanish,spain,resources,madrid,immersion,estudiantes