Friday, July 4, 2008 (read 1221 times)
Living Spanish in Barcelona celebration: 10% DISCOUNT OFFER!
by Stacey
The grand opening of our brand new school in Barcelona and the 2009 20th anniversary of the opening of the first don Quijote school in Spain are HUGE reasons to celebrate this year!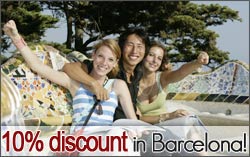 To get the party going, we're offering away a 10% discount on our Intensive Spanish course in Barcelona!
Here's how easy it is to enjoy an unforgettable Spanish course in Barcelona at a discounted price:
Just book our most popular course, Intensive Spanish, with don Quijote accommodation with an arrival date between now and November 27 of 2009.Yep… that's it!
So if you've been dreaming about a Spanish course in Spain, don't miss this chance!Where better to experience the thrill of learning this passionate language than in the pulsating, culturally explosive city of Barcelona? And in our state of the art, ideally located new school in the heart of Barcelona's L'Eixample district?
Start planning your stay in Barcelona today!

Contact our course counsellors


Request your copy of our free brochure!
Act quickly to reserve your place and your first choice of accommodation! This special offer is subject to availability.
Conditions:
- Discount cannot be combined with any other offer.
- Discount must be requested at time of booking.
- Discount not applicable to changes from one school to another, with the exception of extending or lengthening your stay, prior to your arrival.
- Discount not applicable during June, July and August.
- Offer subject to availability. Expires November 27, 2009.
---
Keywords: 10% discount,intensive spanish,spanisch,opening,celebration,barcelona new school,abroad,accommodation,barcelona,beginners