Tuesday, October 27, 2009 (read 1136 times)
don Quijote Salamanca students photo competition and accent the city!
by Stacey
Remember Estela Díaz Rodríguez, the don Quijote Salamanca Spanish teacher we featured in our monthly newsletter of June 2009? Well, she continues to actively post entries in her "ele y… ¡olé!" blog and one of her recent postings got us intrigued…
Estela has organized an interesting activity for her Spanish students: a photo competition titled "The 5 wonders of Salamanca" - in which her 5 students enthusiastically participated in by submitting 5 photographs of the city of Salamanca and an explanation as to why it is their favorite spot in the entire city.
Take a peek at each student's photo slideshow and you, as the reader, can vote for your favorite until October 30th!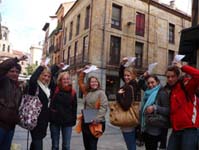 Lastly, for the grammar aficionados, be glad to know that Estela has taken her students on an "accent tour" around Salamanca. It consisted of her students pointing out store signs, publicity displays, etc., that have not been accented at all with the Spanish tílde!
The coolest thing? Her own students were the ones to quickly point out the errors. Talk about a hands-on activity that keeps everyone interested and learning when and when not to use tíldes!
Check out the slideshow of the accent photographs here.
---
Keywords: videos,video,teachers of spanish,teachers,study spanish,study,spain,students,spanish teacher,spanish,spanisch