Sunday, February 1, 2009 (read 963 times)
Experience Mexico for 15% less!
by Stacey
Would you like to study Spanish this spring on the shores of the Pacific Ocean or on the warm waters of the Caribbean?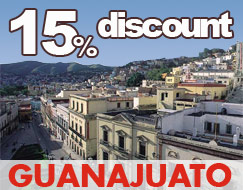 Now's your chance! Learn Spanish and get to know Mexico at an exceptional price!
Plan your 2009 Spanish course to stay between now and December 28 of 2009 in: Guanajuato -- and get a 15% discount when you sign up before November 27!
Mexico's awaiting! Don't wait to sign up!



Request a FREE brochure and shout "¡Viva Mexico!"
Conditions:- Offer cannot be combined with any other offer.- Offer must be requested at time of booking.- Offer subject to availability. Expires November 27, 2009.
---
Keywords: spanisch,offer,guanajuato,brochure,2009,15% discount,abroad,beginners,courses,don quijote