Friday, February 13, 2009 (read 3945 times)
Save with don Quijote's Online Booking!
by Stacey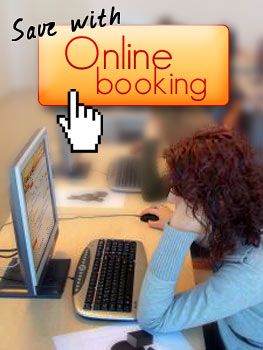 From now until November 27, when you register online for your Spanish courses through don Quijote's Online Booking, you'll save yourself:
Enrollment fee* or Accommodation fee **
…depending on the destination you choose, which are listed on the registration form. Get to know all the details (and discover our other offers) in the Special Offers section!
Conditions:
Offer only applies to one: Enrollment fee OR Accommodation fee, NOT both.
Offer not valid for phone registrations or bookings done by post/mail.
Offer not cumulative with any other offer.
Offer not applicable to changes from one school to another.
Offer subject to availability. Expires 27 November 2009.
* Enrollment fee savings: 65€ (Alicante, Marbella and Sevilla) or $100 (Guanajuato)** Accommodation Fee saving: 30€ (Barcelona, Granada, Madrid, Salamanca, Tenerife and Valencia).

Request a free brochure too!
---
Keywords: valencia,tenerife,summer,study spanish,study,spain,spanish,seville,salamanca,mexico,madrid,guanajuato