Monday, March 23, 2009 (read 811 times)
No enrollment fee for Summer Camps when booking before May 31!
by Stacey
Save on your SummerCamp experience in 2 simplesteps!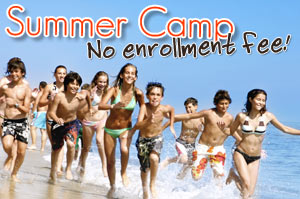 Step 1- Choose your favorite summer camp destination:
Step 2- Request your enrollment fee waiver (for an summer camp arrival in August 2009) when you book and fully pay before May 31, 2009).
That's it!

Get a free Summer Camp brochure with all our programs and prices.


Contact our Course Counsellors to request more information.
Conditions:
- Offer is only available upon request.
- Offer not cumulative with other offers and subject to availability.
- Enrollment fee savings: 65 euros ($100 for Guanajuato only)
- Offer expires: 31 May 2009
---
Keywords: summer abroad,videos,verano,study abroad,spanish,spaanse,spaans,offer,news,latin america