Wednesday, August 5, 2009 (read 990 times)
A student's experience with don Quijote (English and Spanish language)
by Stacey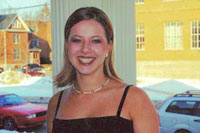 don Quijote.org would like to thank Jennifer Legger for sending us her testimony (written in Spanish!) describing her experience as a USA student studying Spanish in don Quijote Salamanca.
We translated it into English and kept her original Spanish version which you can read at the bottom. Enjoy!
-- IN ENGLISH --
Hello to everyone interested in learning the Spanish language and the Spanish culture! As I ponder how to write this testimony, I'm faced with the problem of having to describe an experience that wasn't just possible, it was incredible…!
The month that I spent in the don Quijote Salamanca School was the best month of my life! I'm not talking nonsense, it as it really was a meaningful experience for my 22 years of age. There were 2 main things about don Quijote that distinguished it from other language schools in Salamanca. The first, when I would research a school asking a lot of questions (the same ones you're probably asking yourself), the staff at don Quijote were the quickest in responding, and did it in such a casual and friendly (unpushy) way that I knew from that moment forward I would be comfortable in the school and that if I had a problem during my stay, I would be in the best of hands.
And I wasn't mistaken because in don Quijote I found that everyone from teachers, administrative staff, even the other students to be the most caring, friendly and fun people I've ever met! My teachers were not only sweet, but were great in teaching all aspects of Spanish: the language (of course!) as well as the culture, the history and even the feeling of what is like to be "Spanish" too! Classes were so much fun that the 7 daily hours of Spanish courses I chose always went by fast!
The second thing that distinguished don Quijote was its students. I met people from all over the world and who I still keep in touch with. Since I speak to my 2 best friends various times a month, it is unbelievable that 1 year has already passed. I remember spending nights without going to sleep because I was having so much fun dancing and meeting interesting people, each with a different history and culture. I remember very well – and I will never forget – waking up after only brief sleep to go to class, and the teachers would be in an undestanding mood despite the students not being in the best of shape. I remember drinking coffee in the Plaza Mayor with the sun shining while I chatted with friends and made plans for the night and decided at what time we would meet "debajo del reloj" (under the clock) – a tradition you'll get to know once you're in don Quijote…
I have so many memories to describe that, as I said in the beginning, It's impossible to describe the true feeling of the way it actually was. But I can say this: I am proud to say that every person that I met in don Quijote has become a friend, many students and teachers who I keep in touch on a frequent basis and who, despite the distances, will remain friends always. In short, don Quijote is not only a language school, it is an experience that will change your life, perhaps for forever.
-- IN SPANISH --
¡Hola amigos juntos en el interés de la lengua y la cultura española! El problema que está enfrente de mí es esta carta que estoy por escribir, es que tengo que describirle una experiencia que realmente no era posible, era tan increíble…
El mes que pasé en Salamanca en la escuela don Quijote, fue el mes el mejor de mi vida, y no digo eso sin sentido e hizo mucho a mis 22 anos. Había dos cosas principales que distinguieron Don Quijote de otra escuela en Salamanca. Primero, cuando buscaba una escuela y tenía muchas preguntas, como probablemente tienes tú también, la gente de Don Quijote fueron los más rápidos en responder, y lo hicieron como un amigo a otro. Desde este momento supe que yo estaría cómoda en esta escuela y que si tenía algún problema durante mi estancia, estaría en las mejores manos.
No me confundí porque en don Quijote encontré la gente: profesores; todo el consejo administrativo, y estudiantes también, los más cariñosos, amigables y divertidos que jamás he tenido la fortuna conocer. Mis profesores no eran solamente cariñosos, también excelentes en enseñar todo los aspectos de Español; la lengua por supuesto, pero la cultura, la historia, y el sentimiento de lo que es Español, también. Las clases eran tan divertidas que el día de siete horas, que yo elegí, pasó tan rápido!
La segunda cosa que distinguía don Quijote, era los estudiantes, gente de todo el mundo, y amigos con quien sigo en contacto, que conocí. Como hablo con mis dos mejores amigas muchas veces cada mes, es increíble creer que un año ya ha pasado. Recuerdo las noches en que no dormí a causa de divertirme tanto, bailando y conociendo gente tan interesante cada uno con una historia y cultura diferente. Recuerdo (¡y eso no lo olvidaré nunca!) levantarme después de poquísimas horas de sueño, para la clase, y cómo los profesores tenían sentido de humor cuando los jóvenes de la clase no estaban en su mejor forma. Recuerdo estar bebiendo un café en la plaza mayor y el sol que brillaba mientras charlaba con amigos y hacer los planes para la noche y la hora para reunirnos "debajo del reloj"- una tradición que conocerías muy pronto si estuvieras en don Quijote…
Tengo tantos recuerdos que describir y como dije al empezar, no puedo describir el sentimiento como es en realidad. Pero, puedo decir esto. Estoy orgullosa decir que cada persona con la que entré en relación en don Quijote se hizo amigo, y muchos, estudiantes y profesores también con quienes hablo con frecuencia, a pesar de la distancia, y lo será para siempre. En pocas palabras, don Quijote no es sólo una escuela de lenguas, es una experiencia que cambiará su vida, y lo mejor, para siempre.
---
Keywords: testimony,study spanish,study,spain,students,spanish culture,spanish,salamanca,intensive spanish,immersion