Friday, November 26, 2010 (read 832 times)
New Animated Movie: The Aventures of Don Quijote
by Kimberly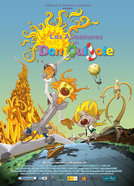 Maybe you have a Spanish class or are studying Cervante's masterpiece Don Quixote de La Mancha....or perhaps you are just curious but not really interested in reading the whole long novel.
Well, I have good news for you! A new animated film brings the Aventures of Don Quixote to the big screen. In 73 minutes kids and adults alike can learn the principal stories in the novel. Talk about a fun way to learn some culture and to study a literary masterpiece!
The just released Animated Spanish movie is called Las Adventuras de Don Quijote (The Adventures of Don Quijote).
The movie is about a little mouse that lives in Miguel de Cervante's house and is fascinated by the novel that the author is writing. Every night, he tells the stories of Don Quixote to his family, about this particular Linx (Don Quixote) who searches for aventures with his inseperable friend Sancho. The objective is to become a knight and fight for truth, tolerance, and respect for all mankind.
Check out a preview of the Adventures of Don Quixote from El Mundo newspaper.
If you prefer, you can read the Don Quixote novel here
Let us know how your classes enjoy the movie! Additionally, for teachers we have a whole "museum" of Quixote information and quizes. Check it out our Quixote Museum!
---
Keywords: quijote, cervantes, movie