Tuesday, December 14, 2010 (read 8056 times)
Spanish Christmas Lottery at Doña Manolita's in Madrid
by Kimberly
The Spanish Christmas Lottery is one of the most famous in the world and is held on the 22nd of December each year. It is known as the Sorteo de Navidad (Christmas Drawing) or Lotería de Navidad (Christmas Lottery). The Spanish Christmas Lottery first started in 1812 and now is the biggest lottery event in the world, based on total prize payout.
The Spanish Christmas Lottery is often referred to as El Gordo (the fat or big one), although the name actually refers to only the first prize. Each winning ticket (billete) sold of the winning El Gordo number will be paid at a fixed rate of 3 million Euros.
Why is the El Gordo Spanish Lottery is so enormously popular worldwide? To get an idea, in 2009, 585 million Euros was distributed among those who possessed the winning El Gordo lottery number alone, not to mention all the prize money awarded to other categories in this special Christmas Lottery. In total, 13,334 different numbers (of 85,000 in total) will win a prize and the total amount awarded can reach 2,320,500,000 Euros!
Learn all about how the Lottery works and all the different prizes in Spanish Christmas Lottery.
Due to huge amount of prizes and winners in this lottery, 98% of all Spaniards participate. Additionally people from all over the world buy tickets. Some Lottery offices in Spain are extremely famous for having sold the El Gordo top prize in the past and now, during the holidays, people wait for hours to buy their Christmas ticket there.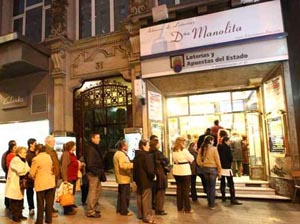 This is the case with Doña Manolita's lottery office on Gran Via in Madrid. The insanely long lines present outside her shop have other businesses complaining. Her lottery office is one of the longest running in Spain, opened in 1931, it is the most famous lottery vender in all of Spain. Doña Manolita is deceased, but her popularity reins on.
Neighboring stores watch helplessly as their sales drop, and have filed complaints to the city of Madrid who has replied that they cannot do anything about a public street. There have even been some altercations in the line as nerves snap after hours waiting in the cold.
What do nearby business do? Well, if you can't beat it, join it, as the saying goes. One manager of some shoe stores located near Doña Manolita decided to give 5€ worth of lottery tickets with a shoe purchase. Other shops have taken more decisive action. A lingerie shop put out a red carpet, two plants, and hired a security guard to ensure the line does not block access to the store. Other stores have taken similar action.
The lottery shop does not intentionally cause troubles. In fact, to minimize the affects on neighbors they have hung a sign asking people to form lines one way around the block on even days and the other on odd days. That should at least give most venders a breath of fresh air every other day!
Just how crazy does the lottery madness get? The manager of Doña Manolita said that the police have had to be called several times because the customers do not let them close the store! A worker name Concha Corona is shouted at every time she enters the shop to work as people confuse her with a customer cutting in the line. The owners say that there is nothing they can do about the complaints but also that they attract many customers to Gran Vía, surely that benefits business as well.
Interestingly enough, tickets can, in fact, be purchased online from Doña Manolita (www.loteriamanolita.com) but people prefer to wait in the cold and follow tradition. Why do people buy their ticket at Doña Manolita's? Apart from the fact that she is one of the oldest lottery shops in Spain, she also has a big history of selling winning numbers. Although it is not very surprising given that the shop probably sells a hefty percentage of all the tickets sold in Spain.
Don't forget to buy your Spanish Christmas Lottery ticket! This year you might get lucky! Although you should expect lines from two months before the drawing all the way through until afterwards (because the winners must return to claim their prizes).
---
Keywords: lottery,madrid,doña manolita,el gordo