Thursday, October 27, 2005 (read 984 times)
Discovering Spanish life in the mountains
by Jeroen

During the free weekends of my language course, I can do a lot. Enjoy the nightlife till I drop and take an XL-siesta afterwards, grab my Spanish study book and study a bit, stroll through the city, go for some shopping and off course, I must not forget to do the laundry. All of this is pleasant or just necessary, but during my stay in Spain, I prefer to see something. A bit of sightseeing is not that bad. In and around Salamanca there is a lot to see. It is time for an excursion.
And so you sit, all well-behaved at 10 a.m. on your free Saturday on a bus to the 1.723 meter high mountain 'Sierra de la Peña de Francia'. After enjoying the beautifulview on the mountains and an old monastery (Nuestra Señora de la Peña de Francia), our bus brings us to La Alberca; a medieval village that is declared a national historical monument. If you forget the cars and tourists, it looks like time has been standing still over here. In the village you find narrow streets that look quiet, still populated old half-timberedhouses, a parish church and some friendly old Spaniards shuffling by. They have even got a Plaza Mayor, which admittedly is somewhat smaller than the one in Salamanca.
Absolutely worth a visit, is the museum "Casa Museo Sátur Juanela". In here you can discover how the old inhabitants lived in the past. Smart guys, those Spaniards; people and animals lived together in one house that was stocked with practically everything. Stables on the ground floor and on the three storeys above, the living areas with among others a kitchen, several pantries and some bedrooms.
After a stop in Mogarraz we climb on our bus again and by the end of the afternoon, an hour later, we return in Salamanca. To finish this day in style, myself and some students dive into the first tapas bar we approach. And my laundry? Well, tomorrow is another day.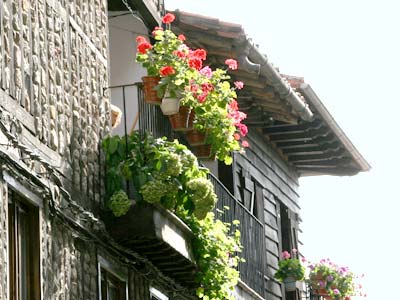 Tijdens de vrije weekenden van mijn taalcursus, kan ik van alles doen. Uitgaan tot ik erbij neerval en vervolgens een XL-siesta houden, of ik pak mijn lesboek en ga een beetje bijstuderen, ik slenter wat door de stad, doe wat boodschappen en natuurlijk, ik moet niet vergeten mijn was te draaien. Allemaal leuk of alleen noodzakelijk, maar un ik toch in Spanje zit, wil ik ook eigenlijk wel wat zien. Een beetje sightseeing kan geen kwaad. Niet alleen Salamanca, maar ook de omgeving heeft zeer veel te bieden. Het is tijd voor een excursie!
En zo zit je dan met je goede gedrag op je vrije zaterdag om 10 uur in bus op weg naar de 1.723 meter hoge berg 'Sierra de la Peña de Francia'. Na genoten te hebben van een schitterenduitzicht op het gebergte en een oud klooster (Nuestra Señora de la Peña de Francia), rijdt onze bus naar La Alberca; een klein middeleeuws dorp dat is in zijn geheel is verheven tot een nationaal monument. Als je de auto's en de toeristen vergeet, lijkt het of de tijd hier heeft stilgestaan. In het dorp vind je nauwe straatjes die verlaten ogen, nog steeds bewoonde oude in elkaar getimmerde huisjes, een kerk en wat vriendelijke voorbij schuifelende ouderen. Ze hebben er zelfs een eigen Plaza Mayor, welke weliswaar een stuk kleiner is dan dat van Salamanca.
Absoluut een bezoek waard, is het museum 'Sátur Juanela'. Hier kun je ontdekken hoe de Spaanse dorpsbewoners in het verleden geleefd hebben. Slimme jongens, die Spanjaarden. Mensen en dieren woonden hier samen in één huis, waar werkelijk alles te vinden was. Een stal op de begane grond en op drie verdiepingen hierboven de woonvertrekken met onder meer een keuken, enkele voorraadkamers en wat slaapvertrekken.
Na een tussenstop in Mogarraz, stappenwe aan het eind van de middag weer in de bus. Na een uur rijden, keren we weer terug in Salamanca. Om deze dag van kennismaking met het Spaanse leven geheel in stijl af te sluiten, duik ik uiteraard met wat medestudenten de eerste de beste tapasbar in. En m'n was? Tja, morgen is er weer een dag.
---
Keywords: salamanca,diaries,culture