Friday, October 28, 2005 (read 6234 times)
Spanish lesson plans
by Paqui
El rincón del profe is a specialised website for teachers of Spanish offering resources such as lesson plans for your Spanish class.
Thelesson plans and class activities are classified into 4 different levels, you'll find exercises for beginners, intermediate, advanced and superior levels. There is also an additional section with activities for teaching Spanish to children. You can send your own lesson plans to share them with other teachers.
All the resources are free, but you have to open a teacher account and fill in a short test to acces the teacher's contents.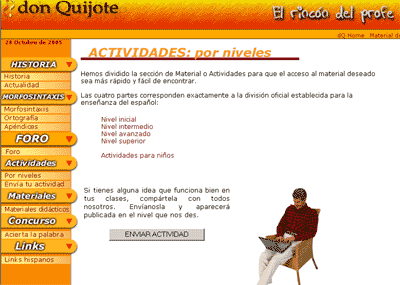 El rincón del profe es una web para profesores de español que contiene recursos comounidades didácticas y actividades para preparar las clases de español.
las unidades didácticas y actividades están clasificadas en 4 niveles diferentes, con ejercicios para niveles principiante, intermedio, avanzado o superior. También hay una sección adicional con actividades para enseñar español a niños. También es posible enviar tus propias actividades de clase para compartirlas con otros profesores.
Todos los recursos de esta web son gratuitos, pero es necesario abrir una cuenta y completar una pequeña encuesta para acceder a los contenidos para profesores.
---
Keywords: lesson,teachers,profesores,class