Friday, November 4, 2005 (read 945 times)
Resources for the Spanish Class
by Paqui
Here is an example of a lesson plan for beginners in Spanish, you'll find more lesson plans and activities for Spanish classes in this website with Spanish teacher resources
Each activity is displayed in a card which specifies the duration of the activity, the materials required, the level of the students and a description of the exercise.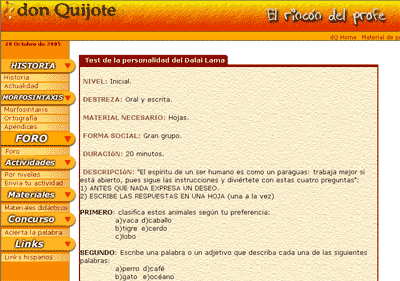 In this site you will also find information about the history of Spanish Language, which can be very useful if you are teaching Spanish culture.
There is also a section dedicated to Spanish Morphosyntax, with useful information for teaching Spanish morphology (how words are built in Spanish) and syntax explanations (simple vs compound clauses, etc..)
Additionally you'll find resources for teaching Spanish Phonetics and Phonology, explanations of Spanish punctuation and word stress.
---
Keywords: teachers,lesson,class