Monday, November 7, 2005 (read 1274 times)
Teaching Spanish Punctuation
by Paqui
One of the main characteristics of Spanish language is its punctuation, in Spanish there are openning question and exclamation marks which do not exist in other languages.The beginning of a question in Spanish is marked in punctuation with an openning exclamation marks which helps to identify interrogative clauses from other clauses. Here is an example:
a tí te gusta el té   you do like tee
The same happens with exclamative clauses, their starting point is marked with an openning exclamation mark like in the example below:
Me gusta ese jersey ¡que bonito! -  I like that jumper, it's so nice!
To help you with teaching these and other rules of Spanish punctuation you'll find useful explanations and resources to help you with your lesson plans in the Teacher's Corner Section, here is an example of the contents: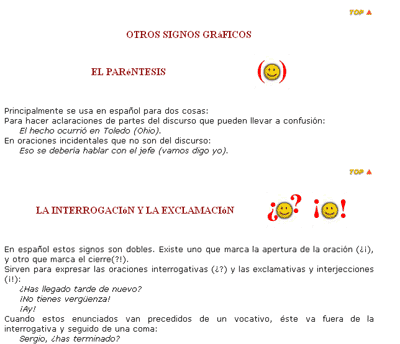 ---
Keywords: teachers,spanish,profesores,lesson