Wednesday, July 13, 2005 (read 843 times)
Who's in our schools this week?
by Paqui
Have you ever wondered who's learning Spanish at our schools, right now?
This week we have students from 55 countries! Holland, Brazil, UK, Germany, Italy, USA, Denmark, Canada, Sweden, Ireland, China, Finland, Luxembourg, France, Switzerland, Australia, Hong Kong, Norway, Japan, Iceland, Austria, Slovenia, Hungary, Czech Republic, Poland, South Korea, Belgium, Taiwan, Russia, Slovakia, Israel, Croatia, Bulgaria, Turkey, Portugal, Greece, Lithuania, India, Cyprus, Ukraine, Liechtenstein, Byelorussia, Malaysia, Singapore, Estonia, Cameroon, Saudi Arabia, Guam, French Guyana, Antigua and Barbuda, Martinique, Tunisia
Ages of our students this week: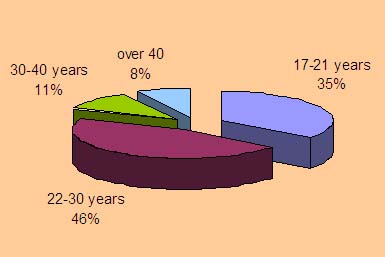 Welcome all!

---
Keywords: students,schools,courses