Tuesday, August 9, 2005 (read 608 times)
Studying Spanish in Madrid
by Olga
My name is Olga, I am from the Netherlands and I am currenty studying at don Quijote in Madrid. I am sure some of you are considering doing the same, and that's why I want to share some of my stories with you, so that you have an idea what to expect.

Yesterday we had a Welcome Dinner with all the new students from school. I met some other Dutch people, many Americans, English, and one really cool Japanese guy who is in my class. Right now my class already consists of seven people! By the way, I am one of the youngest people in school (24), something I didn't expect, but I what I actually like, most people are between 26 and 30 years old. After the dinner we went to a tropical cocktail bar, where we ordered a huge cocktail, named 'El Volcán', and it really was a volcano, with smoke and everything. Very funny. The ladies also got a flower lei and flowers in our hair. After, we went to some other bars, and we met some Spanish guys who invited us to have some 'chupitos'(shots) in their bars. Finally, I could just catch the latest metro home! Next week my sister and my friend will come and visit me, that is gonna be fun!
Hallo! Ik ben Olga en studeer momenteel bij don Quijote in Madrid. Omdat er zeker lezers zijn die ditzelfde plan hebben, wil ik de komende tijd graag mijn ervaringen met jullie delen, zodat je tenminste een beetje een idee hebt van wat je kunt verwachten!

Gisteravond hadden we een Welkomsdiner met alle nieuwe studenten van school. Ik heb nog een paar nederlanders ontmoet, verder veel amerikanen, en engelsen, en een hele toffe japanner, die zit in mijn klas. Mijn klas bestaat uit 7 personen. Ik ben trouwens een van de jongsten op school (24), dat had ik niet verwacht, maar de meeste mensen zijn tussen de 26- 30, wat ik eigenlijk ook wel leuk vind.Na het eten zijn we naar een tropische cocktailbar gegaan, waar we een enorme cocktail hebben besteld 'El Volcan ', en het was ook echt een vulkaan, met rook en alles erop en eraan. Erg grappig. De dames kregen ook nog een hawaislinger en bloemen in het haar. Daarna hebben we nog een aantal spanjaarden ontmoet, die ons gratis 'chupitos' (shotjes) aanboden, en uiteindelijk kon ik nog net de laatste metro naar huis halen. Volgende week komen m'n zus en een vriendin op bezoek, dat wordt gezellig!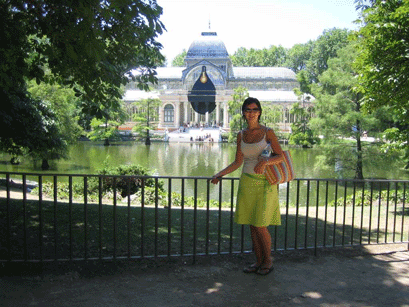 ---
Keywords: madrid