Tuesday, October 3, 2006 (read 940 times)
Ever Wondered What Christmas is Like in Spain or Mexico?
by Erin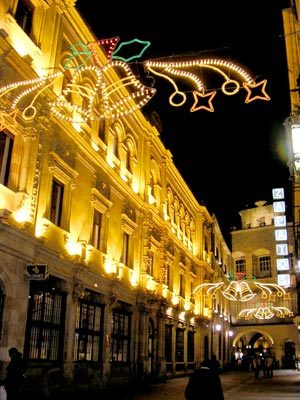 don Quijote has just announced all the details of the 2006 Christmas programme, which has expanded this year to include Christmas week courses in 6 destinations: Madrid, Tenerife, Barcelona, Valencia, Granada and (for the first time!) Guanajuato, Mexico.
Each course will include a welcome dinner, as always, and several of the destinations will hold a small holiday get-together in the school.
A full schedule of cultural activites is planned, with daily culture classes on gastronomy, wine, traditional Spanish Christmas carols, Spanish cinema, colloquial Spanish, etc. We'll try to get all of the cultural activities up on the web ASAP and post a link here on the blog.
Meanwhile, here's a list of the Christmas Course excursions planned for Saturday the 23rd in each of our schools:
Christmas Course one-day guided excursion during the weekend
MADRID – Excursion to the remarkable medieval city of Toledo
VALENCIA – Excursion to the Museo de Belenes (Nativity Scenes) in Alicante
TENERIFE – Excursion to the Teide volcano
GRANADA – Excursion to the white mountain villages of Las Alpujarras
BARCELONA – Excursion to the mountain and monastery of Montserrat
GUANAJUATO, MEXICO – Excursion to the picturesque colonial city of San Miguel de Allende
Christmas courses start on December 18 or December 25 (with the first class on the 26th) for 1 week or 2 weeks. In Tenerife, the schedule even includes a 23:45 get together for interested students on New Year's Eve to enjoy together the festivities (fireworks, ringing of the church bells and general celebrating) into the madrugada (til morning.)
If you're interested in spending Christmas in Spain or Mexico (and giving your Spanish a little end-of-year boost while you are at it, contact a course counsellor for more details.
---
Keywords: valencia, toledo, tenerife, spain, schools, mexico, madrid, holiday, guanajuato, granada, culture, courses, barcelona