Sunday, December 10, 2006 (read 1513 times)
A Quick Guide to Spanish Christmas Posts on Spanish Teaching
by Erin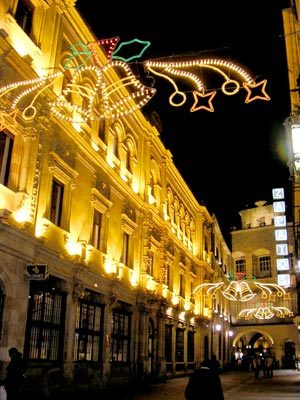 With the holidays close at hand, our web stats show more and more of you arriving from Google searches for Spanish Christmas songs, Spanish Christmas traditions, Spanish vocabulary about Christmas, etc.
To make finding all the Christmas Spanish resources we've posted at this blog in the last year easier for you, leaving you more time to celebrate ;), we've put together this little
Directory of Christmas Posts at Spanish Teaching
Spanish in Spain: A Christmas Calendar Just what happens in Spain this time of year? Lee, a young Irish woman who studied and worked at don Quijote last year, wrote up this Christmastime calendar.
Christmas Carols! Villancicos A link to Christmas songs in Spanish, with lyrics so you can sing along.
My first Christmas in Spain The first-hand story of a Swedish girl spending Christmas in Spain.
Christmas in Salamanca A small collection of photos of Salamanca at Christmas, 2005
Christmas Activities Christmas activities during don Quijote's 2006 Christmas course in Madrid, Barcelona, Tenerife, Granada and Valencia.
Christmas words and phrases My recent post of Spanish Christmas words
EXTRA!!!
For more Spanish and Latin American Christmas traditions, visit NavidadLatina.
---
Keywords: vocabulary,spanish,spain,salamanca,resources,navidad,holiday,granada,culture,christmas