Wednesday, May 31, 2006 (read 786 times)
My Trip to Toledo
by Maquil
After my first week in the lovely city of Salamanca, I went on a little excursion with my school (don Quijote) to Toledo. Since we left at 8 in the morning, the bus ride there was really quite. Everyone was very tried, and so we all got a good 3½ hour pre-siesta. When we came up to Toledo, I was amazed by the huge wall surrounding it. It still looked like it did back in the middle ages, well minus the cars and all the tourists with their cameras and little hats.
Once we got off the bus, we got a small guided tour around the "old" city. After the tour we had free time, where we could do what we pleased. I decided to go into the Cathedral. Although the ticket was a bit dear, it was worth it. Inside the Cathedral is a different world. It is so grand and old; you can't help but just stare at its splendour.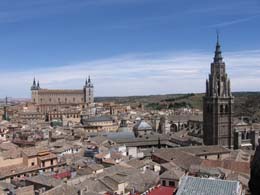 After the Cathedral we walked around the streets, trying not to get lost, but it is near impossible to not get turned around at one point or another. This though, I think, was the best way to see the city as we just let the "streets" lead us.
Toledo was great, it is such an amazing city and you have so many sights to see it is impossible to do it in a day. I enjoyed it though and cant wait till I go back again!
Come see the picture I took while on my excursion, in the Toledo photo album.
---
Keywords: students,diaries,culture