Wednesday, January 17, 2007 (read 4097 times)
The oldest lighthouse in the world!
by Celine
Haven't you always wanted to know just where the OLDEST lighthouse in the world is??
Well, even if you haven't, this is an interesting fact I think you should know. The oldest existing lighthouse in the world is La Torre de Hercules located in La Coruña, in Galicia, Spain. They say this lighthouse dates back to ca. 20BC!!! Imagine everything that this lighthouse has seen!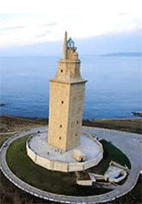 For pictures and more information, click here!!
---
Keywords: lighthouse,world,hercules