Monday, August 27, 2007 (read 18380 times)
A guide to the wonderful world of tapas...and some handy phrases to use while de tapeo
by Erin
This fun guide to the art of tapeo was published by don Quijote in the Costa Blanca News. Read through - you'll find handy Spanish phrases to use during your bar outing at the end of the article. The author is an intern here in Salamanca, with plenty of tapas experience: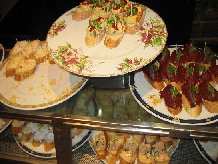 No self-respecting Spanish bar would risk being caught without an intriguing array of tapas arranged across its counter. These saucer-sized bites, as much a part of Spanish culture as the siesta and the fiesta, come in infinite varieties and, more often than not, are completely unidentifiable to the untrained eye. However the art of ir de tapas is one that the Spanish have honed to perfection and, once mastered, is arguably the most enjoyable way to enjoy "fast food" with friends!
A brief history of the tapa…
Legend has it that the tapa was actually the brainchild of the Spanish king Alfonso X El Sabio (the Wise), who had to take small amounts of food with wine whilst recovering from illness (a likely cure-all!). Once recovered, the king decreed that no wine was to be served in any of the inns of the land of Castille unless accompanied by a snack to avoid alcohol intoxication…and thus the concept of the tapa was born!
As tabernas (taverns) became established, Alfonso's decree remained in effect and all glasses of wine were served covered with a slice of smoked ham or cheese, the logic being that the lid or tapa would prevent insects or other nasties falling into the drink, while it soaked up the strong alcohol drunk by the farmers and workers.
Today, tapas are the perfect snack to keep the Spanish going between their infamously late lunch and even later evening meal. In many places, Salamanca included, you'll still get a free tapa with your drink, but even in the priciest places you won't pay more than 4€ for a dish. It's easy to see what you're getting (even if it's difficult to establish exactly what it is) as, more often than not, tapas are displayed in glass cabinets across the bar…so no difficult menus to decipher and no need for dictionaries at the dinner table!
Top tips for taking tapas…
The art of the tapeo has an etiquette all of its own. Follow these tips to avoid tapas faux-pas…
The ideal number in a tapas party is four. Too many people choosing the food can get a little chaotic.
Tapas should be taken standing, usually at the bar. This action of eating small quantities while standing is referred to as pecking at the food, bird-like, picar (pecking) as opposed to comer (eating).
Don't eat more than two tapas at any one place. The idea behind ir de tapas is to eat a little and move on to the next bar…a gastronomic bar crawl!
Practice what the Sevillanos call convida…whereby everybody pays for a round. Don't be stingy when it comes to la cuenta (the bill).
Learn to combine the right tapas. For example, a little plate of gambas (prawns) would go nicely with one of pulpo (octopus) but may not compliment caracoles (snails) quite as well!
Keep conversation light.
If you're not sure what something is, just ask. The Spaniards take great pride in the creativity of their tapas, and will be happy to share it with you.
Make it clear if it's a tapa you're after (mini portion) or a ración (a meal sized serving) or you'll end up paying a lot more than you planned.
Liquid refreshment
The traditional drink with the tapa is wine from the barrel or beer. A peleón is a young and cheap wine or a reserva is a wine matured in oak barrels. Availability depends on the region:
Basque country: ask for a txakolí - a young wine.
Cataluña: drink a Penedés or a Cava.
Northwestern Spain: sip a ribeiro.
Castile: go for a young Valdepeñas or a robust rioja.
Andalusia: wash down your tapas with a sherry.
Asturias: here, sidra (cider) replaces wine.
Valencia: choose a champú - a half blonde beer, half lemonade (known as a clara in other areas).
Tapas decoder…
Recipies vary according to season and region, but standard offerings you'll find across Spain will include aceitunas (olives), nueces (nuts), jamón curado (smoked ham) and queso (cheese). Also popular are fried tapas and those prepared in a salsa or sauce, as well as casserole stews, paella "type dishes made with rice, variations on the theme of roast potatoes and little tapas resembling canapés, on pieces of toasted bread. Don't forget that a free basket of pan (bread) often accompanies your tapas.
Albóndiga Meatball, fishball.
Aliñada Dressed, marinated
Anchoa/ boquerones Anchovy
Bacalao Cod
Calamares Squid
Callos Tripe
Carne Meat
Ensalada rusa Salad of potato, mayonnaise, garlic, tuna and peas
Frito Fried
Gambas Prawns
Huevo Egg
Jamón Ham
Lomo Pork loin
Mayonesa Mayonnaise
Mejillones Mussels
Patatas bravas Fried potatoes in a slightly spicy tomato sauce
Picante Spicy
Pimientos fritos Skinned and fried peppers
Pincho moruno Small kebab
Pipirrana Tomato salad
A la plancha Grilled
Pollo Chicken
Pulgas Little rolls or sandwiches
Relleno Stuffed
Tortilla Omelette
Xoubas Little sardines
Some useful phrases…
¿Me da…., por favor? Could I have…, please?
Una tapa/ un pincho de… a small portion of…
Una ración de … a meal sized serving of…
Una copa de vino a glass of wine
Una cerveza a beer
¡Buen provecho! Enjoy your meal!
¡Salud! Cheers!
La cuenta, por favor. The bill, please.
---
Keywords: video,tapas,english,spanish culture,salamanca,recipe,expressions,cava,culture,food