Friday, August 24, 2007 (read 1158 times)
Travelling across the USA only in Spanish... Follow along on BBC Mundo blog in Spanish
by Erin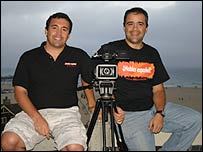 What happens when you wander across the Southern U.S., from east coast to west coast, asking every person you meet "¿Hablas español?" (Do you speak Spanish?). How many Americans can get by in a conversation in Spanish? How many will give it a good try? And are they all Latino?
Two journalists from BBC's Mundo Spanish language news service set out to find out for themselves. Their adventures and observations are recorded in a revealing English language article on the BBC site, and their entire trip is recorded, personally, warmly and with plenty of entertaining anecdotes and intriguing reflections, in their Spanish language blog on the BBC Mundo site.
Excerpts from the BBC article:
"You are in a town in Florida and you decide to check who speaks Spanish there. Easy enough, you would think. How many people do you think you need to ask? It took us 16 people and 50 minutes to find someone who spoke Spanish, as a second language."
"You come across someone with thick black hair, brown skin and a badge on his chest with the name Armando Perez. How much do you bet that he speaks Spanish? Well, keep hold of your money because this Armando did not speak a word apart from his own name and despite, as they say in the southern U.S., "looking Mexican". "
"The question we asked ourselves before setting off was, would it be possible to cross the U.S. from coast to coast just speaking Spanish? The answer? We don't know…."
"What we do know is that Spanish is present in the daily life of all Americans. Even the most hardened defender of "English Only" can stumble across Spanish while changing TV channels or walking in the street."
There are some 250 TV channels and 650 radio stations that broadcast programmes in Spanish, and the number keeps growing.
Perhaps the best conclusion is from an email sent to our blog from a Spanish teacher in New York, who wrote: 'In the US, Spanish has stopped being a foreign language.'"
Do you want to study Spanish? don Quijote has schools in amazing destinations in Spain and Latin America!


Request a free brochure now!
---
Keywords: work,travel,spanisch,latin,america,news,spanish