Monday, August 20, 2007 (read 1267 times)
Podcasts and PDFS to help you learn Spanish: dpili.com, the diary of a Spanish girl in Salamanca
by Erin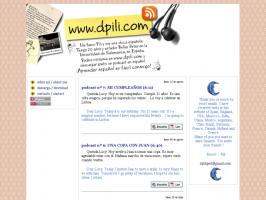 Pili from Salamanca recently left a comment on several of our posts, so I wandered over to check out her site. It's a perfect addition to any how-I-can-learn-Spanish-from-home list. Here's a snippet from her "About Me":
"My name is Pili and I'm a Spanish girl. I'm 20 years old and I'm studing Fine Arts at the University of Salamanca. I'd like to be a painter. I like to go "tapear" (to a Spanish bar, you know) go to some parties, but specially I like to travel around the world. Last year I studied in USA, when I met my friend Lucy. She is studing Spanish there. I write a spoken diary for her and for all of you. You can visit me every week in www.dpili.com and download a free podcast."
Once a week Pili posts a short podcast in Spanish with an accompanying PDF in Spanish. Each podcast is a letter to her American friend Lucy, back in Ohio and is a fun and realistic look at the life of a university student here in Salamanca, Spain.
We think it is yet another good way to build up your Spanish from home!
---
Keywords: diaries,colloquial,learn,pronunciation,resources,salamanca,spain,spanish,university