Wednesday, August 22, 2007 (read 853 times)
A special offer for don Quijote alumni - and their friends!
by Erin
Special offer for don Quijote students who return for another course!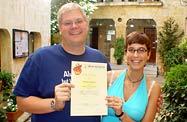 If you or any of your friends have previously studied with us at don Quijote, here is a great opportunity for you.
We want to reward our illustrious alumni (yes ALL of you) with a special "muchísimas gracias", and an "enhorabuena" thrown in as well, all in the form of:
20% discount off your next Spanish course at any don Quijote school in Spain or Mexico!
Better yet, this thank you is is transferable, so if you're unable to take another course with us right now, feel free to pass that 20% discount along to a Spanish-studying friend!
And, best of all, when you both come to study with us, you both save. When you return to don Quijote and bring a friend along with you, you'll receive your 20% discount and your friend will enjoy a 10% discount.
Places for these special prices are limited so make sure you contact us soon and be sure to request the offer when booking your course.
Your teachers look forward to seeing you again! How's that subjunctive doing these days, they're asking, is it coming along?
---
Keywords: study abroad,spanish,spain,save,mexico,immersion,courses,don quijote,offers,schools