Friday, January 25, 2008 (read 2111 times)
¡CARNAVAL! Carnival Cádiz and Carnival Tenerife
by Erin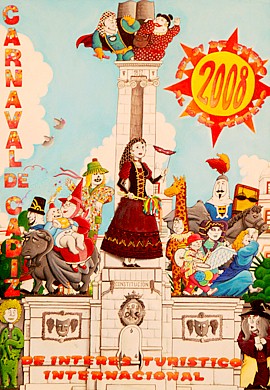 It's Carnival time in Tenerife and Cádiz!
If you thought that festive Carnival celebrations were the exclusive property of Brazil or Venice, you'll be in for a wild surprise during a February visit to Spain. The most famous Spanish carnival celebrations take place in Tenerife in the Canary Islands and Cádiz in Andalusia.
Tenerife's Carnival is similar to that of Río de Janeiro, perhaps simply due to geography, since Tenerife is a tropical island with an average temperature of 22° Celsius throughout the year. For "Tinerfeños", Carnaval is the event of the year. Locals work diligently on their costumes for months before the start of the festivities. Dance, music and color take to the streets during the the island's Carnival parades. The most important parades take place in Santa Cruz de Tenerife, the capital of the island. If you're eager to see local color and culture while you learn Spanish, Carnival is an ideal time for Spanish course at don Quijote Tenerife.
When: January 30 " February 9th, 2008
See some of our students' photos of past Tenerife Carnivals.
More detailed information: Carnaval Tenerife, the official website.
The Carnival of Cadiz is equally famous. Gaditanos have their own way of living Carnaval. Following more in the Carnival footsteps of Venice than Río, Cádiz revelers get together with a group of friends to dress up according to a theme and sing songs with lyrics written as a parody of current Spanish public events or news. The essential ingredients of the Carnival of Cádiz are fun, flamenco and "cachondeo" (joking). And yes, like the Carnival of Tenerife, with don Quijote, you can enjoy the Carnival of Cádiz from the comfort of a Spanish course and student accommodation.
When: main events from February 2 to February 10th, 2008
More detailed information: Carnaval de Cádiz, the official website.
---
Keywords: travel,tenerife,spanish,spain,schools,holiday,fiesta,culture,courses,cadiz,accommodation