Friday, January 11, 2008 (read 3664 times)
What's with all the napkins on the floor? Long overdue poll results.
by Erin
Way back in September we presented this poll question to you:
Out for tapas lately? Honestly, how comfortable are you tossing your napkins on the floor in a Spanish bar?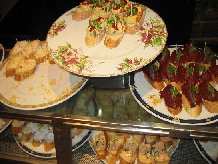 Luckily the Spanish have yet to give up the habit of tossing their napkins to the floor while eating pinchos (tapas), usually standing and closely surrounded by dozens of other enthusiastic bar patrons. The custom makes sense to you from the moment you take your first bite of pincho moruno or lomo a la plancha while desperately trying to juggle a glass of Rioja or reach for a place to temporarily store it. Pinchos are eaten standing for the vast majority of clients in a small Spanish bar at tapas hour, and it's just easier and if you ask me - and a whole lot more fun - to drop your napkin right where you are as you head for the next pincho.
From this tradition comes, usually, a period of discomfort for extranjeros (foreigners) who envision their mothers scowling in disapproval.
It also leads me to the best advice I can give you for picking out a bar in a strange Spanish town. If you've hit prime pincho hour and the bars are full, by all means pick an establishment packed with locals. But when you find yourself facing two bars empty enough for you to see the floor, perhaps because most folks have already headed home for the comida or cena, your best pick should always be the bar with the incredible mess of napkins on the floor… mostly because it means the food is good!
With sincere apologies for the delay then, here's how you answered that question:
Honestly, how comfortable are you tossing those napkins on the floor in a Spanish bar?
| | | |
| --- | --- | --- |
| Are you kidding? I even throw the clean ones down there. What's your hang-up? | | 20 (18%) |
| I do it, but I'll admit I look both ways first. | | 13 (11%) |
| Takes everything I have to do it, still, but I do it. When in Spain… | | 19 (17%) |
| No way. What if my mother sees me? | | 13 (11%) |
| Throw the what? where? I need a trip to Spain, don't I? | | 46 (41%) |
Total votes: 111
---
Keywords: napkins,floor,long overdue,poll