Tuesday, October 7, 2008 (read 1085 times)
2008 Festival Internacional Cervantino in Guanajuato, Mexico
by Stacey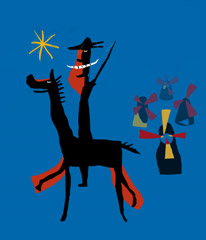 Every year in the month of October the famous Festival Cervantino is held in honor of the illustrious author Miguel de Cervantes (author of Don Quijote de La Mancha), with a variety of national and international cultural and artistic events. There are exhibitions, plays, concerts, cinema and all sorts of events, turning the city into a hotbed of culture.
The International Cervantes Festival is the most important artistic and cultural event in Mexico and in all Latin America. It has been held without interruption since 1972, the year it was created and has as its venue the city of Guanajuato. Guanajuato is also the capital of the state of the same name, birthplace of Mexico's independence.
In its beginnings, the festival was devoted mainly to artistic creation in the Spanish language, in homage to Miguel de Cervantes. In the course of time, the universal scope of the influence of Cervantes gradually took the form of the vast variety of artistic and cultural expressions included in the festival today.
During the celebration of the International Cervantes Festival a torrent of the most outstanding works in music, opera, theatre, dance, plastic arts, cinema and literature take over all of Guanajuato, making it a privileged destination for thousands and thousands of people coming from all over Mexico and the entire world. Today there are very few countries that have not participated at some time in this feast for the senses and for the mind, through the participation of their foremost artists.
This year's 36th edition of the International Cervantes Festival will bring together the most outstanding artists of Asia, Europe and America. Around 2,000 artists from 24 countries will be participating in this event, celebrated from October 8 - 26. The guests of honor for 2008 are Campeche and Catalonia.
Visit the festival's Official webpage: www.festivalcervantino.gob.mx
Wish to learn more about the fictional character of Don Quijote? Visit our Don Quixote Virtual Museum!
---
Keywords: study spanish,study abroad,spanish,schools,news,learn,latin america,guanajuato,festival,espagnol