Thursday, October 2, 2008 (read 959 times)
Save on your next Spanish course in Mexico!
by Stacey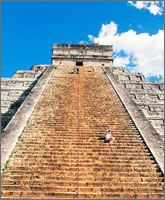 Live an unforgettable cultural immersion in a vibrant and colorful country: Mexico!
Learn Spanish while you wander through the elegant colonial city of Oaxaca, or the charmingly bohemian beach towns of Playa del Carmen and Puerto Vallarta.
Book a Spanish course beginning in October 2008 - and get a 10% discount!
Take advantage of this offer by enrolling between September 29 and October 24. The last class start date is Monday, October 27.

Contact a course counselor for a lot of sunshine, Spanish and savings on your next course!


Get a complimentary brochure!
Conditions:
- Offer cannot be combined with other offers
- Offer available upon request and subject to availability.
- Offer expires 31 October of 2008.
NOTE: This offer ends on October 31, 2008!
---
Keywords: study abroad,study,spanish,schools,save,puerto vallarta,playa del carmen,offers,oaxaca,news,mexico