Thursday, September 25, 2008 (read 1072 times)
Special Offer: Study Spanish in Mexico!
by Stacey
Experience the exotic culture of Mexico while you learn Spanish!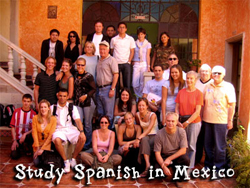 Spend 4 weeks or longer learning Spanish in Mexico's Guanajuato or Playa del Carmen, and receive 5 private One-to-One lessons for FREE.
Just book your Spanish course to begin in October 2008 between October 1 and October 31. It's that easy!
Do not miss this opportunity to study Spanish in an exotic Mexican location!

Contact a course counselor now to request more information.


Get our free brochure!
Conditions:
- Offer cannot be combined with another offer.
- Offer available upon request and subject to availability.
- Offer applies only to bookings made between October 1st until October 31st of 2008, Spanish time.
NOTE: This offer ends on October 31, 2008.
---
Keywords: course counselor,oaxaca,playa del carmen,puerto vallarta,study spanish,study abroad,study,spanish,spain,spaanse