Friday, October 23, 2009 (read 951 times)
2010 courses at 2009 prices!
by Stacey
One great way to get to know a place the way only locals know it is by experiencing it thoroughly when learning Spanish. If you want to discover Spanish, then this is your chance: sign up to take a Spanish course in 2010 - and pay 2009 prices!
Don't let this opportunity pass you by!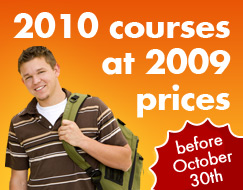 Destinations: All don Quijote destinations


Course length: Starting from one week


Discount: Your 2010 course with prices of 2009


Enroll by: 30 October 2009


Offer ends:30 October 2009
Conditions:- Registration must be made before 30 October 2009.

Contact your Course Counsellor now to request more information.

Request a free brochure!
---
Keywords: valencia,study spanish,study abroad,study,spanish,spanisch,spain,save,salamanca,regist