Thursday, October 15, 2009 (read 947 times)
Discover Buenos Aires with $100 off on your "Spanish + Volunteer" course
by Stacey
Get a USD$100 discount on your Spanish + Volunteer course in Buenos Aires, the vibrant capital and hip culture heart of Argentina.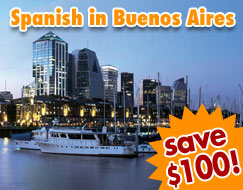 City: Buenos Aires


Course length: 4 weeks, anytime in 2009-2010


Discount: USD$100


Enroll by: 29 October 2009


Offer ends: 29 October 2009
Conditions:
- Offer applicable only to our Buenos Aires school.
- Bookings and full payment must be received by 29 October 2009.
- Offer cannot be combined with any other offer.
- Offer must be requested at time of booking.
---
Keywords: volunteer program,study abroad,study,spanish,save,offers,offer,learn,latin america,latin,immersion