Tuesday, May 12, 2009 (read 1065 times)
Spanish in Granada... 4th week is free!
by Stacey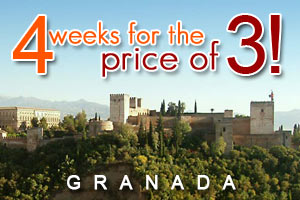 Spend more time in Granada this summer… for a lot less!Immerse yourself in the Spanish language and discover the history behind Granada's rich Moorish past:
Enroll before 31 May 2009 in a 4-week Intensive Spanish Course with a stay in June, July or August …and get the 4th week free!
Where else can you relax in the nearby beaches, taste the refreshing drinks served in the numerous arab tea houses ("teterías"), stroll through the city's winding cobblestone streets, visit the legendary Alhambra Palace or Granada's many monuments?

Contact our course counsellor for information


Request a free brochure!
Conditions:
- Cannot be combined with another offer.
- Offer must be requested at time of booking.
- Applies only to BOOKINGS made by 31 May 2009 (Madrid time).
- Valid for STAYS during June, July or August only.
- Subject to availability. Expires 31 May 2009.
---
Keywords: verano,summer abroad,summer,study spanish,study abroad,study,spanish,spanisch,spain,spaan