Friday, July 10, 2009 (read 2641 times)
Bailamos!
by Lauren Somers
As many of you may know, students at don Quijote schools are not only given lessons in the Spanish language during the day, but are also have the opportunity to discover a little more about the Spanish culture itself at night! ¡Qué suerte! These additional cultural classes range from dancing and singing, to the showing of well-known Spanish films, such as those by the acclaimed Spanish director Pedro Almodóvar.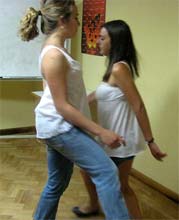 Monday nights in Salamanca the don Quijote school hosts the weekly dance lesson. This time it was Flamenco. Having always been intrigued by this traditional "gitano" (gypsy) dance, I was keen to see if I would be able to pick up a few steps myself!
The class began at 7pm, as I arrived a little late (as usual!), I had to stand at the back. The room was hot already, and we hadn't even started dancing yet! The teacher got everyone to warm up by practicing some of the traditional arm movements of flamenco, which involved a lot of waving your arms above your head and wrist-rotating.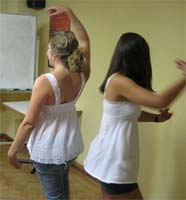 As least that's what it looked like when we did it. The teacher herself made the movements look both powerful and graceful. As the temperature in the room began to increase, she led us through the basic footwork of flamenco, eventually showing us when to stamp our heels down. However, many of us simply looked like we were doing lunges, rather than learning a dance!
Then came the hard bit, trying to combine arms and legs…with music. After a few more practices, and several bruised toes later, most of the class had at least picked up the basics, or so we hoped. We were now told to pair up and start the dance facing each other, which proved quite difficult, but at least we could laugh together at each other's mistakes! And nearly all the class managed to get the ending position right, even if nothing else!
All in all, I thoroughly enjoyed the lesson. Although we would never make it as professionals, everyone had a smile on their face when we finished

. The lesson was an excellent opportunity not only to learn some flamenco, but also to meet other people from the school, as we bonded over our faulty footwork!
---
Keywords: spanish culture,salamanca,lesson,learn,flamenco,cultura,dance flamenco,culture