Thursday, July 9, 2009 (read 1622 times)
Rice Festival and Paella contest in Sueca
by Stacey
If you like paella and other rice-based recipes don't miss the Fiesta del Arroz (Rice Festival) in Sueca, an agricultural town south of Valencia.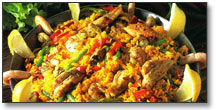 Declared a tourist interest in 1966, the annual Rice Festival takes place the first half of September to celebrate the most internationally known dish of the Valencian community: the paella. Chefs from around the world gather on the Paseo de la Estación to compete in the "international paella contest " where a giant paella is cooked using the excellent rice that is grown in the very heart of this rice-growing region.
Mmm… this explains why rice is the main ingredient in many Valencian dishes!
This year's event takes place on 11 September of 2009.
---
Keywords: valencia,toerisme,summer,spanish culture,spain,spaans,recipe,news,gastronomy,food,festival