Thursday, September 10, 2009 (read 965 times)
Fireworks in Salamanca!
by Lauren Somers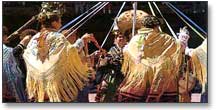 The festivals in Salamanca got a kick start on Monday night, with an immense fireworks display by the river. Although the display was not due to start until 10, the roads down to the river filled up very quickly, with people running to try to get a good view! The first bangs set off a few bats over Salamanca's awe-inspiring cathedral. However, this did not distract the crowd for long, which was soon mesmerised by the array of colours lighting up the sky.
The display finished with an incredible finale which filled the sky with a plethora of gold sparkles, gaining a huge applause from the crowd. This was just the start of the wonderful events that the city of Salamanca will host during its annual fiestas in name of the patron saint of the city, La Virgen de la Vega (The Virgin of the Valley). Although the festivals are coming to an end, Salamanca remains a place to party all year round! Find out more about what Salamanca has to offer!
---
Keywords: spain,september,salamanca,fiesta,festival,celebration