Monday, September 14, 2009 (read 3290 times)
Rosario Flores
by Lauren Somers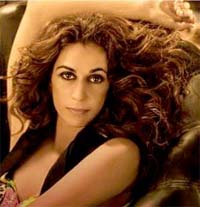 On Saturday Salamanca welcomed Rosario Flores, Spanish actress and singer, to its annual ferias. Rosario performed on the stage that has been erected in the Plaza Mayor specifically for the week long festivals that are taking place in the city. The singer's fame and reputation for vibrant and exciting performances attracted a huge crowd that filled the plaza entirely. And she didn't disappoint! Rosario's enthusiasm and joie de vivre was highly contagious and soon the whole crowd was dancing and singing even if, like me, they didn't know the words!
Rosario Flores was born in Madrid in 1963 to Lola Flores, one of the greatest Spanish singers and Flamenco dancers, and Antonio Gónzalez, most commonly known as "El Pescailla", who was said to have invented the Spanish rumba. Rosa was the youngest in the family, with her older siblings, Lolita and Antonio, who were also both involved in the music industry.
Rosario started out by acting various films and television series, but music and dance was inevitably in her blood, so in 1984 she released her first mini-album "Vuela una noche". This first attempt, however, had little success compared to her following albums.
In 1992 she tried again with an album called "De Ley", including songs written by her brother Antonio, such as "Mi gato" and "Sabor sabor". This album was extremely popular and marked the beginning of a hugely successful career.
However, in 1995 tragedy struck when her mother, the famous Lola Flores, died from cancer. Tragically the family was to suffer again just two weeks later when Rosario's beloved brother and accomplice Antonio also passed away.
The family was paralysed by grief, and the Spanish nation shocked by the devastating news. Rosario was deeply affected, but knew that she had to carry on, and so toured the whole of Spain in the summer of 1995. It was with this tour that she really made herself a definitive Spanish artist. She wowed the crowds with her live performances, demonstrating all the force and energy of her race, and the gypsy and flamenco roots that she inherited from her mother.
In 1996 her daughter Lola was born after her relationship with her then partner Carlos Orellana. She also released the album "Mucho por vivir", for the first time producing records without the help of her beloved brother Antonio. The album is a clear tribute to him and sold more than 400,000 copies.
Rosario dedicated her next album to her father, who passed away in 1999, having never got over the almost simultaneous deaths of his wife and son. The album, "Muchas Flores" is a tribute to the Spanish rumba, particularly the first song "Al son del tambor". It won a Latin Grammy Award in 2002 for Best Female Pop Album.
In 2002 she played Lidia in Pedro Almodóvar's film "Hable con ella", a female matador who gets gored and ends up in a coma. It was during filming that Rosario met her current husband Pedro Lazaga, with whom she had a son in 2006.
Rosario's performance in Salamanca was electrifying. Her gypsy roots were particularly apparent and she dazzled the crowd with her powerful voice and sexy moves. She described her attitude towards life perfectly by saying to the crowd…
¡Música es la medicina para el alma! (Music is medicine for the soul)
---
Keywords: salamanca,rosario flores,festival,dance,flamenco