Friday, October 8, 2010 (read 952 times)
2010 Nobel Prize in Literature - Mario Varga Llosa
by Kimberly
Peruvian novelist Mario Vargas Llosa has won the 2010 Nobel Prize in literature. Mario has written an extensive amount of work that includesnovels, essays and literary criticism.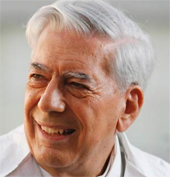 The award was announced yesterday (Oct 7, 2010) by the Royal Swedish Academy of Sciences in Stockholm who praised Mario Vargas Llosa "for his cartography of structures of power and his trenchant images of the individual's resistance, revolt, and defeat".
Mario Vargas Llosa is 74 years old and has written many books across many genres including comedies, murder mysteries, historical novels and political thrillers. Some of his books include: The Time of the Hero, and The Green House, Conversation in the Cathedral and The Bad Girl. Others, such as Capitain Pantoja and the Special Service and Aunt Julia and the Scriptwriter have been converted into feature films.
The author is one of Latin America's mostadmired writers and some critics consider him to have had a larger international impact and audience then writers of the Latin American boom.
Many of Vargas Llosa's works have been influenced by his perceptionof Peruvian society and his own experiences as a native to Peru. Overtime he has tackled new themes and subject matter from other parts of the world. He also has shifted his style and approach associated with literary modernism to a more playful post modernism style.
Don't miss out on this amazing writer, read his work as it was written, in Spanish. Study abroad in Spain or Latin America to reach the Spanish level necessary to enjoy all the extraordinary Spanish literature available!
---
Keywords: 2010,nobel prize,literature,mario varga llosa