Friday, November 7, 2008 (read 1091 times)
Our 2009 course prices are now available!
by Stacey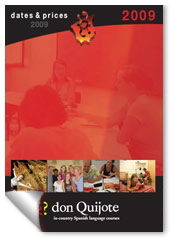 We have just finished uploading our 2009 price list on our website!
You can now view and download a clear layout of our course prices in PDF format.
You can also visit our courses page for a complete list of don Quijote courses, learn about our guarantees and find out what services are included in the price.
So choose your destination in Spain or Latin America, find out the most recent price information for this upcoming year and begin to plan the experience of a lifetime!

Contact us to request a free brochure!
---
Keywords: prices,study spanish,study,spain,study abroad,spanish,news,learn,latin america,intermediate