Monday, March 29, 2010 (read 1237 times)
Semana Santa in Salamanca (say that three times fast)
by Stephen Maher
For the next seven days leading up to Easter Sunday, or Holy Week, processions shrouded in Spanish tradition, history, music, and religion will envelop the town of Salamanca.
During Semana Santa hooded precisionists or nazarenos will march to somber beats played by brass marching bands while candles, crosses, and elaborate floats of the Virgin Mary, Christ, and scenes from the Passion are carried on the shoulders of rows upon rows of men called costaleros.
Students, tourists and locals will be audience to a religious tradition dating from the 4thcentury! Be sure to have your video and still cameras ready and feliz Pascua!
Cheers!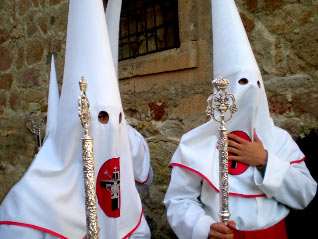 (Image courtesy of http://villafotoblogg.blogspot.com/)
---
Keywords: semana santa,salamanca